NBC News fires Matt Lauer for alleged 'inappropriate sexual behavior'
NBC News has fired "Today Show" host Matt Lauer after a colleague accused him of "inappropriate sexual behavior in the workplace," the network said today.
NBC News chairman Andrew Lack announced Lauer's termination in a memo this morning, which was obtained by ABC News. He said the company received "a detailed complaint from a colleague" Monday night "about inappropriate sexual behavior in the workplace by Matt Lauer."
"It represented, after serious review, a clear violation of our company's standards," Lack continued. "As a result, we've decided to terminate his employment. While it is the first complaint about his behavior in the over twenty years he's been at NBC News, we were also presented with reason to believe this may not have been an isolated incident. Our highest priority is to create a workplace environment where everyone feels safe and protected, and to ensure that any actions that run counter to our core values are met with consequences."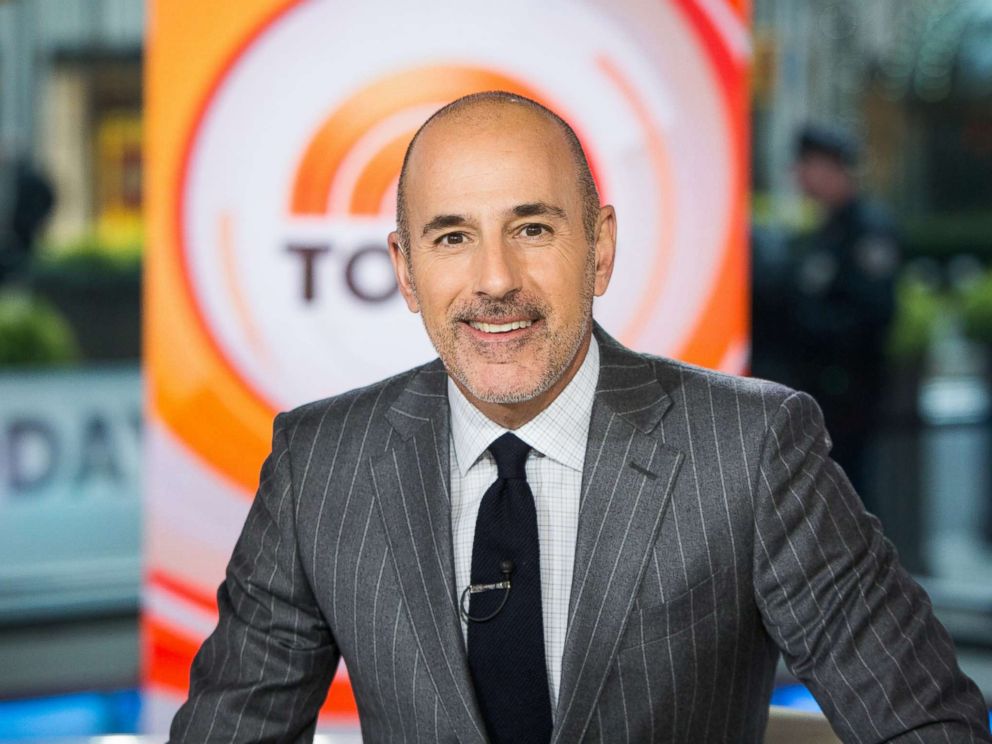 Lauer's co-host Savannah Guthrie read the memo on air at the start of the show this morning. She told viewers that she and others were "still processing" Lauer's firing.
Charlie Rose fired from CBS amid sexual misconduct allegations
Gayle King, Norah O'Donnell react to Charlie Rose allegations: 'This behavior is wrong'
"We learned this moments ago, just this morning. As you can imagine, we are devastated, and we are still processing all of this," she said. "I will tell you, we do not know more than what I just shared with you. But we will be covering this story, as reporters, as journalists.
"I'm heartbroken for Matt. He is my dear, dear friend and my partner, and he is beloved by many, many people here," she continued. "And I'm heartbroken for the brave colleague that came forward to tell her story and any other women who have their own stories to tell."
NBC News correspondent Stephanie Gosk, citing a network representative, reported on the show this morning that a "spokesperson for the company says the accuser described inappropriate sexual behavior throughout 2014. And because of the seriousness of the accusations, together with information that it may not be an isolated incident, NBC decided to terminate Lauer's contract."
Attorney Ari Wilkenfeld, who said he represents the unnamed accuser, told ABC News today, "My client and I met with representatives from NBC's human resources and legal department at 6 p.m. on Monday. Over the course of several hours, my client detailed egregious acts of sexual harassment and misconduct by Mr. Lauer. In fewer than 35 hours, NBC investigated and removed Mr. Lauer."
Wilkenfeld added, "NBC acted quickly and responsibly, as all companies should when confronted with credible allegations about sexual misconduct in the workplace."
Though commending the network's quick response, Wilkenfeld said he is "awed by the courage my client showed to be the first to raise a complaint and to do so without making any demands other than asking the company do the right thing."
Jim Rutenberg, The New York Times reporter who broke the Lauer story, said in a telephone interview on "Good Morning America" today, "There had been these rumors going around for some time; reporters started chasing them, and clearly it got the attention, as it should have."
"But the move by Andy Lack was swift, and let there be no doubt that this is a seismic moment in our culture and in the media," he added.
Lauer's firing comes a week after CBS News terminated veteran journalist Charlie Rose over accusations from multiple women of sexual misconduct.
ABC News' JuJu Chang and Matt Foster contributed to this report.