The North Country Book Club is bringing together reads from all over the tri-county area!
It's your one-stop shop for everything books. We'll help you find local book clubs, help pick out what to read next, give you a place to talk to other readers about your books, and more! We even give away a book pack every month with titles for every type of reader!
Explore the North Country Book Club and discover what worlds await!
Featured Book of the Month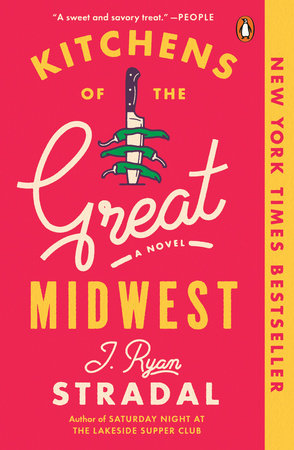 (Cover courtesy of www.penguinrandomhouse.com/ )
Kitchens of the Great Midwest by J. Ryan Stradal
(Published July 2015)
"A sweet and savory treat." —People
"An impressive feat of narrative jujitsu . . . that keeps readers turning the pages too fast to realize just how ingenious they are."—The New York Times Book Review, Editor's Pick
Kitchens of the Great Midwest is a novel about a young woman with a once-in-a-generation palate who becomes the iconic chef behind the country's most coveted dinner reservation. It was selected as a best book of the year by Amazon, BookPage, LibraryReads, and NPR.
If there's one thing I love as much as a good book, it's good food. That is why one of my favorite genres will always be foodie fiction. Kitchens of the Great Midwest by J. Ryan Stradal is the perfect book club selection for foodie fic fans and newbies alike.
A novel that reads like a five-star, eight-course meal, Kitchens of the Great Midwest is a sweet and savory story on how we relate to food and the way it shapes us, using Midwestern cuisine as the dinnerware that carries the story along. The story centers on Eva Thorvald, a culinary wunderkind who "finds solace and salvation in the flavor of her native Minnesota." Readers will watch Eva grow from a precocious home cook to the famous chef behind the nationally acclaimed pop-up dinner club.
Told in a series of vignettes that will make you feel as though you're watching a more decadent version of He's Just Not That into You with the flare of Top Chef, Kitchens will have you savoring each morsel of the story till the very last bite.
Kitchen of the Midwest description from Penguin Random House

Now for some read-a-likes!
• The Hundred Foot Journey by Richard C. Morais
• Delicious by Ruth Reichl
• Starting From Scratch by Susan Gilbert-Collins
• Sweetbitter by Stephanie Danler

Katie Male-Riordan serves as the Library Manager at Hay Memorial Library in Sackets Harbor. She never goes a day without a cup of coffee in hand and half a bookcase crammed into her purse. She's currently preoccupied with selecting the quintessential paint color to use in her living and dining room. Color suggestions may be sent to her via Twitter @katiebiblio.

Kitchens of the Great Midwest is available in print, as an e-book, or as a Book Club in a Bag, from the North Country Library System.
February's Winning Book Pack!
The Heaven of Animals

- by Nancy Tilman

Zendoodle Coloring

- by Julia Snegireva

Legends & Lies The Patriots
- by Bill O'Reilly

Desperate Steps

- by Peter W. Kick

100 Grilling Recipes You Can't Live Without

- by Cheryl and Bill Jamison

Murder in Lakeview

- by Terry Simpson

Adult Mad Libs

- by BYO Mad Libs

La Creme de la Crime

- by Garman Lord

Manic Monte

- by Joshua Peck

Eye on the Iditarod: Aisling's Quest

- by Aisling Lara Shepherd with Hope Irvin Marston

Mattie
- by Suzanne E. Rothenberger

R Come to Life
- by Richard Fontinha

Property of a NobleWoman
- by Danielle Steel