The North Country Book Club is bringing together reads from all over the tri-county area!
It's your one-stop shop for everything books. We'll help you find local book clubs, help pick out what to read next, give you a place to talk to other readers about your books, and more! We even give away a book pack every month with titles for every type of reader!
Explore the North Country Book Club and discover what worlds await!
Featured Book of the Month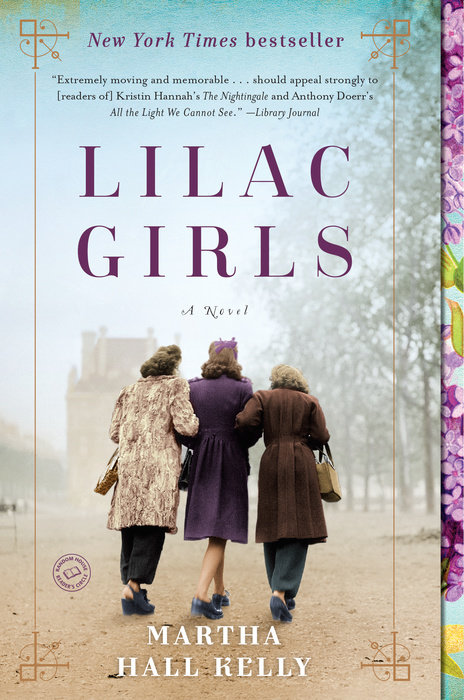 (Cover courtesy of www.penguinrandomhouse.com/ )
Lilac Girls by Martha Hall Kelly
(Published April 2016)
Lilac Girls is a heart-wrenching, moving, and at some points suspenseful novel about the trials of three women during World War II. If you enjoy historical fiction, this book is a must read.

For readers of The Nightingale and Sarah's Key, inspired by the life of a real World War II heroine, this remarkable debut novel reveals the power of unsung women to change history in their quest for love, freedom, and second chances.
New York socialite Caroline Ferriday has her hands full with her post at the French consulate and a new love on the horizon. But Caroline's world is forever changed when Hitler's army invades Poland in September 1939—and then sets its sights on France.
An ocean away from Caroline, Kasia Kuzmerick, a Polish teenager, senses her carefree youth disappearing as she is drawn deeper into her role as courier for the underground resistance movement. In a tense atmosphere of watchful eyes and suspecting neighbors, one false move can have dire consequences.

Some readalikes:

We Were the Lucky Ones by Georgia Hunter (release date: February 14,2017)

Sarah's Key by Tatiana de Rosnay

The Zookeeper's Wife by Diane Ackerman

The Nightingale by Kristin Hannah

Margaret McKay, is the director of the Adams Free Library. She has loved reading ever since she was little; her favorite book when she was young was Caddie Woodlawn. She loves history and so she loves historical fiction. She also loves to read YA dystopian novels, such as The Red Queen by Victoria Aveyard.

Lilac Girls is available in print from the North Country Library System.
January's Winning Book Pack!
I'd Know You Anywhere My Love

- by Nancy Tilman

The Making of Merciless

- by Bryan Stumpf

The Amazing almost True Story
of the Invention of the Safety Pin
- by Adam Cornell

Sea Monsters Googlies

- by Castle Street Press

The Story of The X-men

- by World of Reading (Level 2)

Annie Oakley (Comes to Watertown)

- by Garman Lord

I Can read! Pinkalicious School Rules

- by Victoria Kann

Danbury

- by Rob Mundt

Come Rain or Shine

- by Jan Karon

Ghoulfriends: The Ghoul-it-Yourself-Book

- by Gitty Daneshvari

GraveDiggers (Terror Cove)
- by Christopher Krovatin

On Target (A Gray Man Novel)
- by Mark Greaney

Dork Diaries
- by Rachel Renee Russell

An Under Covers Story Bodyguard
- by Jessica Linden

The Girl on the Train
- by Paula Hawkins

Passion's Prey
- by A.C. Arthur

1 Bookmark