In the next episode of "The Bachelorette," Rachel Lindsay will bring the three remaining suitors home to meet her family, and not all the conversations go smoothly.
Previously, the Lindsay family appeared on "The Bachelor" when they met Nick Viall, so while they knew what to expect, the reality TV star said they were "even more skeptical" of the process the second time around.
Though some may have expected her father, a federal judge, to be the toughest on the men, in an interview with ABC News, Lindsay said that her older sister Constance was her "biggest concern."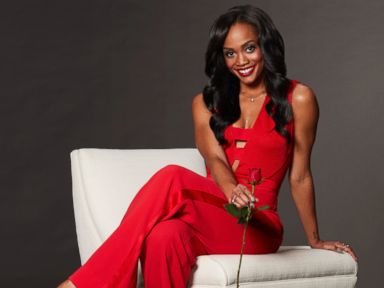 "She's protective, she's a tough critic and I knew that she would come in there guns a-blazing as she met each man," she said. "I knew she was gonna have her questions and her concerns and she wasn't going to let anything they did or said slide."
In a preview for the next episode, which will air on Monday night, Constance is seen confronting Bryan about seeming too smooth. Lindsay said that she understood where her sister was coming from because she shared those concerns at one point.
"It was just important to me to let her know that, 'Listen, I'm not an idiot. I saw the same thing that you saw and you should know that I worked my way through it,'" she said. "He's here because he's proven to me that he is who he says he is, so I didn't think that in a hometown [date] he could do that for her, but I wanted her to know that, 'I see your concerns. I saw them too.'"
However, Constance's worries weren't just limited to Bryan, Lindsay shared. She gave the other two contestants — Peter and Eric — a hard time too.
"With one, she thought that maybe they weren't ready for the same thing that I was ready for," she said, "and with one she thought they were just caught up with everything that was going on and they couldn't really differentiate between all of this from the love they had with me."
Luckily, Lindsay, who is currently engaged to one of the remaining men, said that her family has come around since taping ended. Now, she said, "my family is happy because I'm happy."
"Unfortunately we're still in hiding so they haven't had a chance to get to know him better but I can talk about him more and so they can to know him through my eyes," she said. "I've said it before: My family doesn't agree with every decision that I make. But at the end of the day, they trust the decisions that I make even though they wouldn't have done it the same way."