The Baltimore Police Department officer who was suspended on Saturday after being seen on video repeatedly punching a civilian has resigned.
One day after he was suspended, the police department tweeted late Sunday he has resigned.
"The officer involved in yesterday's incident is no longer with the BPD," the department said in a statement. "Interim Commissioner [Gary] Tuggle has accepted his resignation. The second officer remains on administrative duties. This remains an active criminal investigation."
The department wasted no time in suspending an officer just hours after an incident caught on video showed him repeatedly punching a suspect Saturday.
In the video, the suspect can be heard saying "So what? Don't touch me," and the officer immediately starts throwing more than a dozen punches at the man, who does not fight back. He tackles him onto a stoop and knees him once, but continues to punch the man.
After he is tackled to the ground, he can be seen bleeding from his mouth as the two officers hold him to the ground and arrest him.
"I'm deeply disturbed by the video that surfaced online earlier today," Tuggle said on Saturday. "The officer involved has been suspended while we investigate the totality of this incident. Part of our investigation will be reviewing body worn camera footage."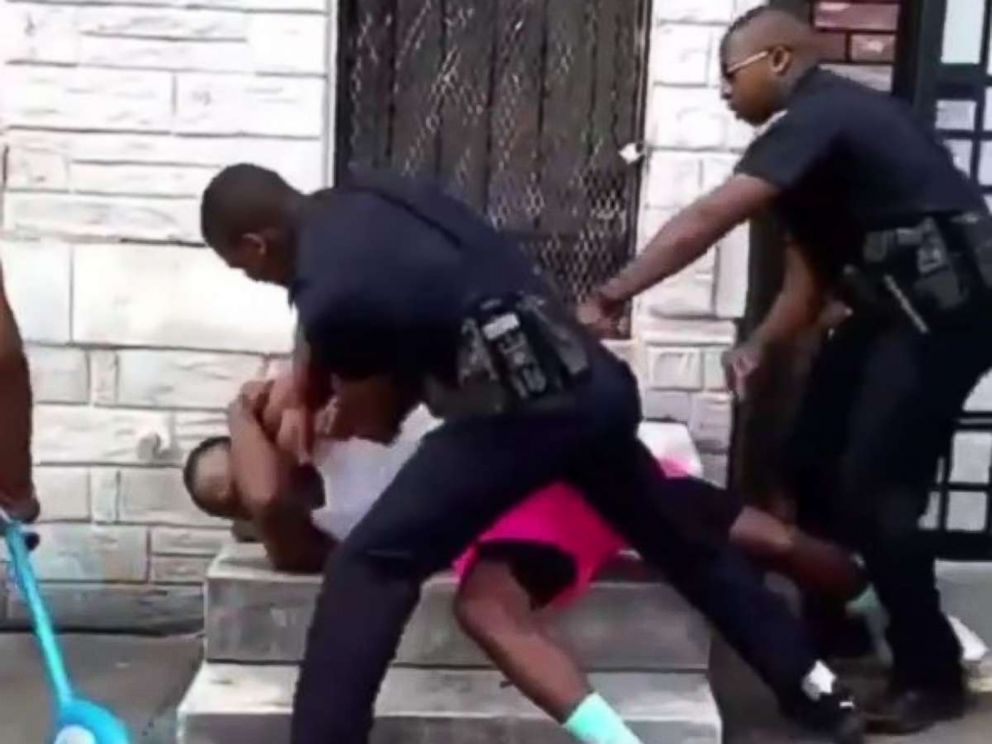 The second officer, who did not throw any punches, has been placed on "administrative duties," according to the police department.
The police said in a statement they began receiving videos of the incident "almost immediately" after it took place just before noon on Saturday.
(MORE: Man shot and killed by Chicago police was hit in the back, autopsy shows)
According to police, the suspect was approached by officers working "a special cross borders crime initiative" and asked to provide identification. Police said the situation "escalated" when the man refused to show ID.
The person filming the video can be heard saying "I got all that, don't worry about it."
The victim was placed under arrest, but not charged with any crime and released from custody.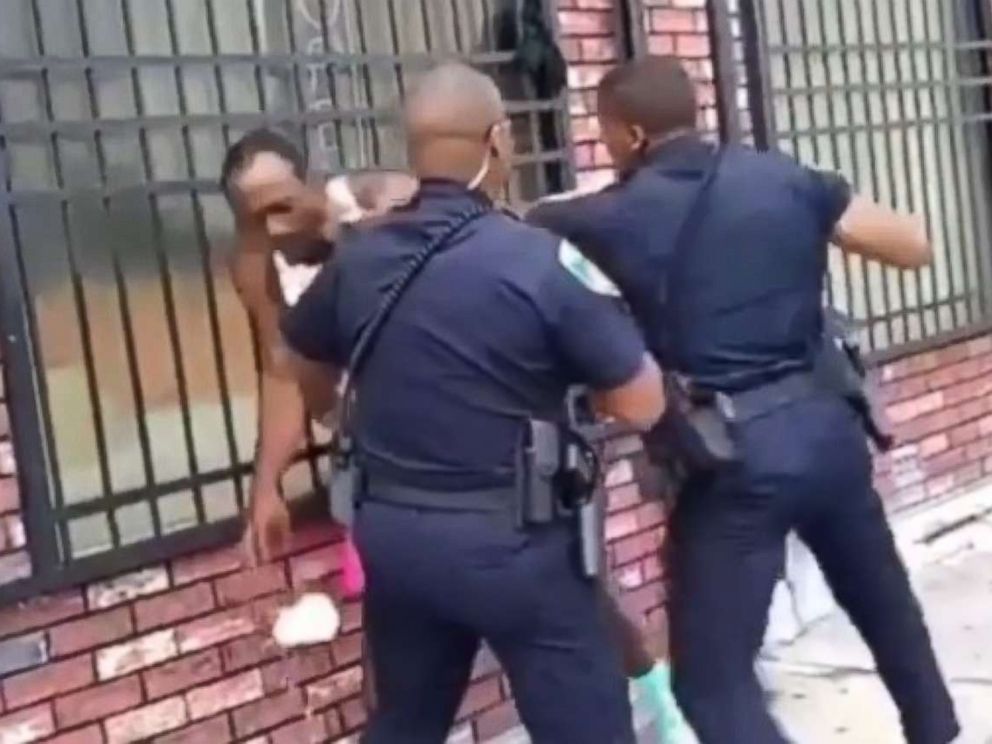 Tuggle said he has "zero tolerance" for the officer's behavior. The state attorney was also contacted, Tuggle said.
The officer, whose name has not been released, has worked for the Baltimore Police Department for just over a year, police said.
(MORE: Police officer charged with voluntary manslaughter of unarmed man)
"While I have an expectation that officers are out of their cars, on foot, and engaging citizens, I expect that it will be done professionally and constitutionally," Tuggle said. "I have zero tolerance for behavior like I witnessed on the video today. Officers have a responsibility and duty to control their emotions in the most stressful of situations."
Baltimore Mayor Catherine Pugh also reacted to the video on Twitter almost immediately. She released a statement saying, "I have seen the very disturbing video of an encounter between a Baltimore City police officer and Baltimore City resident and have demanded answers and accountability."
Mayor Catherine Pugh✔@MayorPugh50

My statement on the video of the Baltimore Police Officer
ABC News' Stephanie Wash and Quinn Owen contributed to this report.