Fans watching this season of ABC's "Dancing With the Stars" might want to keep an eye on Jordan Fisher and his pro dancing partner Lindsay Arnold.
Last night, Fisher and Arnold were tied with two other teams for the top score, and on the season premiere of the competition, they managed to tie for first place with the highest score of the night, despite dancing the tango.
"That is the style I dreaded the most going into the competition and we did it the first night," Fisher told ABC News.
With Fisher's busy singing and acting career, fitting in practice was a challenge. When asked when he finds time to breathe, Fisher joked, "I have a machine for that …. and coffee, lots of coffee."
The 23-year-old, known for his roles in "Grease: Live" and "Hamilton: An American Musical," said he had been asked to participate in the competition previously, but could never make it work with his schedule.
"I spent more time on a plane, than on the ground," he said.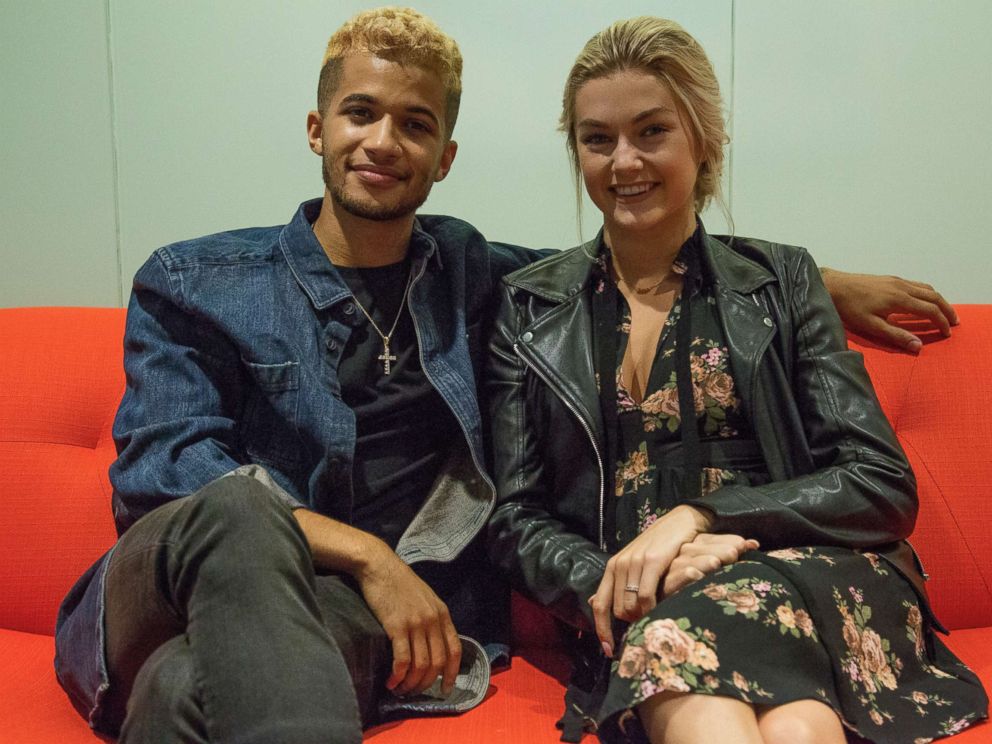 But when he joined the show, Fisher knew who he wanted to pick for a pro partner; he'd been a fan of Arnold's since she competed on the show "So You Think You Can Dance."
The two said they quickly bonded after their first meeting and already have a team handshake.
"We came up with that a little early," Arnold told ABC News with a laugh. "Probably before we even finished the tango."
Arnold has come close to winning the coveted mirror ball trophy in the past several seasons. Last season, she and her partner, retired Chicago Cubs pitcher David Ross, got to the finals, but took second place to Rashad Jennings and his partner Emma Slater.
'Dancing With the Stars' season 25 celebrity cast: Frankie Muniz, Barbara Corcoran, Nick Lachey and more
'Dancing With the Stars' partners play '2 truths and a lie,' and things get wild
Though they made it clear they're truly in it to win it, the couple said they don't see their fellow castmates as competition.
"It's about falling in love with the people that are on the show, and truly rooting for them no matter what they go through," Arnold, 23, said. "We all root for each other, and we all watch each other progress. And we see that, I think, even more than America gets to see, because we're all together pretty much every single day of the week."
ABC News spoke to Jordan Fisher and Lindsay Arnold the day after their debut on "Dancing With the Stars" and found out what goes on behind the scenes, their winning strategy and what people might be surprised to learn about them.
Did you expect to be in the top right away?
Lindsay: "Honestly, going into week one, you have to go into it with no expectation. You just be like, 'Okay, this is it. It's happening. We're going to do our absolute best.' And sometimes, it could turn out really well, like it did last night. And it still feels so good, I like woke up on the plane like, 'Wow, that happened. We did that.' Because I wanted to start really strong with Jordan. He has so much potential, and I'm just so excited to see where else we can go from here."
Jordan: "Success is when preparation meet opportunity, and so, we prepared. And last night was the opportunity, and we found success."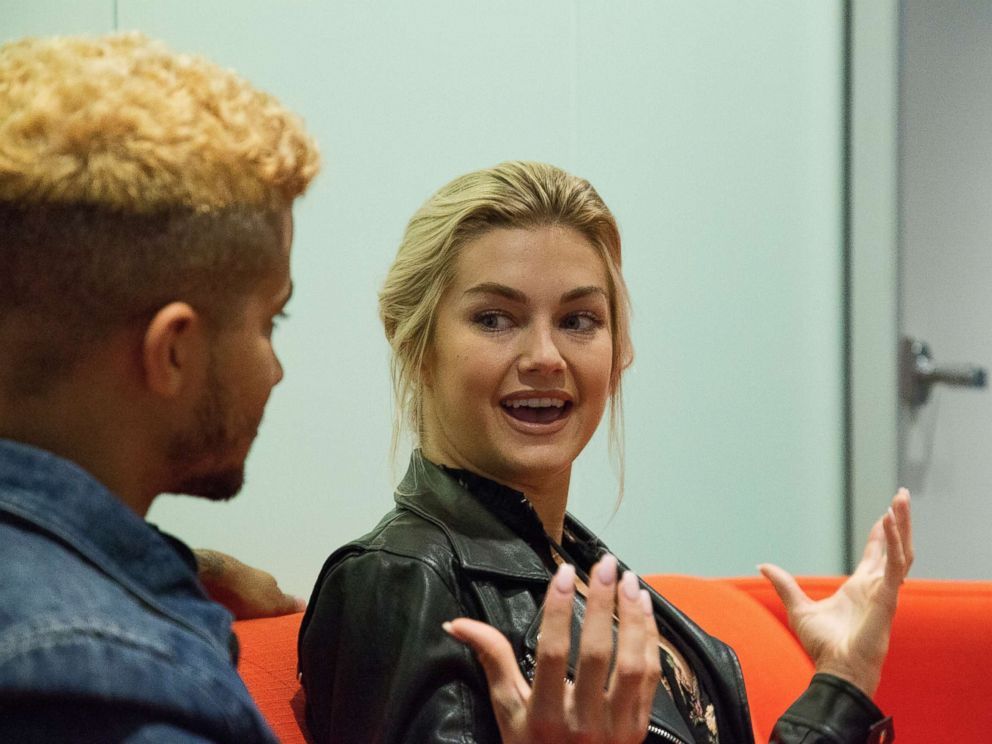 How did you prepare for you first performance?
Jordan: "We were kind of spoiled for week one. So typically with how the show works, you get five days. So you do the performance on Monday. Hopefully, you don't get voted off. Tuesday rolls around, and from Tuesday to Saturday, you have to build a piece and do creative and all that, and then camera blocking happens on Sunday."
Lindsay: "So this week we have two dances, and we have about five days to pull those off. Where before we had like two and a half, three weeks to get one dance down. So, it's a lot different, but, hey, we got to make it happen."
Jordan, you've done Disney Channel, "Grease: Live" and "Hamilton: Musical." You sing. What's it like to be doing something outside of your comfort zone?
Jordan: "I've got 13 years in all of those things. And I've got 13 days in ballroom. So it's a totally different thing. Ballroom is its own entity, its own sport. And I have the most respect for what the pros do. Unbiased, I think she is the most talented, incredible female ballroom dancer. And I can't help but watch her, which is also why I wanted her as my partner."
Lindsay: "Which, that's never happened to me. Like, we walked in, and he's like, 'Oh my gosh I wanted you!' And I'm like, 'What?' Usually they're just like, 'Okay, here we go.' It was really cool and we totally bonded like right as soon as we started. To me that's the most important thing — whether you have experience or not, if the relationship is strong, you can do crazy things."
Jordan: "And it's really funny too, like selfishly, it's like kind of fun to find couple friends that you and your significant other can hang with and have a good time with. I like love her and her husband. And they love me and my girl."
Is your girlfriend loving all the new dance moves?
Jordan: "I literally just got off facetime with her and she was beaming. She said, 'The moment you guys got on the floor, I could not stop smiling.' She was screaming. She was so excited. She was so happy. So she'll be there in a couple weeks, if America keeps us."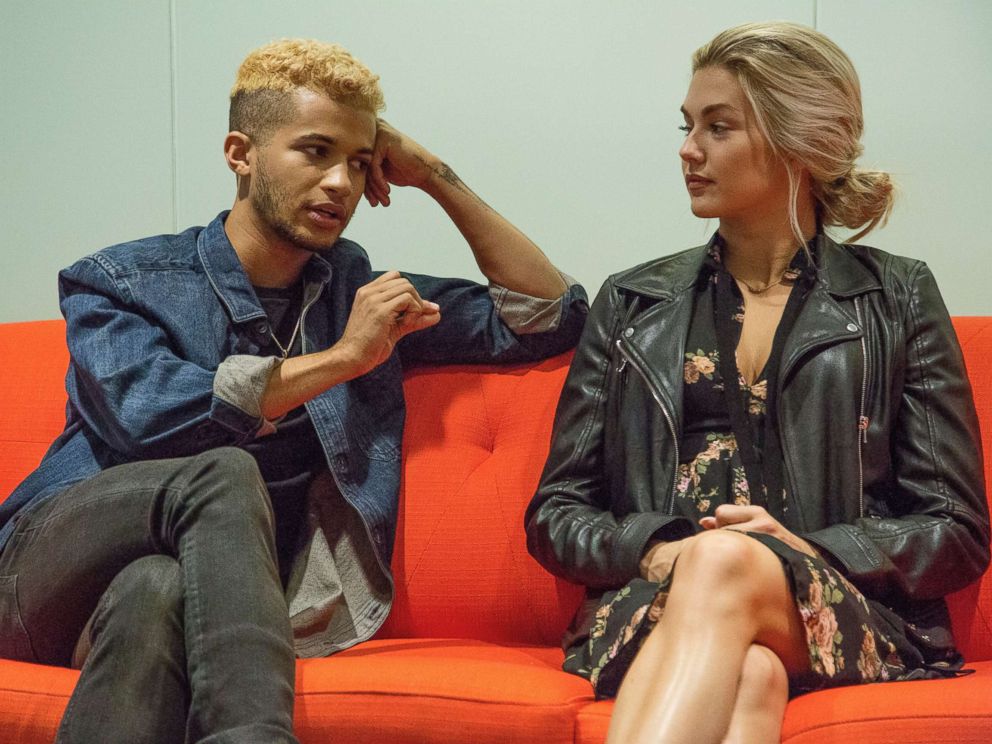 What's it like to be one of the youngest couples in the competition?
Lindsay: "It's awesome. I'm used to my partners being much older than me. So the age gap is kind of the norm for me, but it's been different, because normally it's like a father-daughter bond. But this is like, friendship, brother-sister bond. And I love that because we grew up watching the same TV shows on Disney Channel, listening to the same music, and we just have a lot in common that's very similar, and I feel like that's helped us really create an awesome relationship."
Jordan, what motivated you to join "Dancing With the Stars?"
Jordan: "It was a very easy, yes, for me, honestly. I was initially asked to be a part of it a few seasons ago, and timing wasn't right … I've been fortunate enough to have a handful of friends who have all done the show, and they've all said the same thing, is that the experience you have, the friendships you make on the show — that is the best part. A handful of people have said — Carlos [Penavega], Alexa [Penavega], Laurie [Hernandez], everybody was like, 'If you are ever approached for "Dancing With the Stars," you have to say yes.'"
Lindsay, do you have a winning strategy for finally taking the mirror ball this season?
Lindsay: "Honestly, my strategy is to do what I've done."
Jordan: "So not the stripping, okay …"
Lindsay: "Not the stripping. You won't be stripping. But I feel like the reason I've had a lot of success on the show is because I've taken each season as a different season, because they are all different. There is not one method to winning the show. It's about who your partner is, paying attention to who they are as a person, what America wants to see from them, worrying about their growth."
'Dancing With the Stars': Vanessa Lachey suffers toe injury
'Dancing With the Stars' season 25 begins with a bang
Barbara Corcoran cried for the 1st time in 25 years because of 'Dancing With the Stars'
Let's pretend Jordan isn't here, Lindsay. What is he good at, and what is he bad at?
Lindsay: "The framing and the leading was something that did not click until Sunday night, before the premiere. We were in rehearsals and some things were said, and all of a sudden it was like a light switched on, and it just changed everything. And it happened in the perfect timing, because literally the night before the premiere, we peaked right then. That was something that was hard for him. And I think, he has movement ability, and he has danced before. But it's all been on his own."
Who do you see as your biggest competition?
Jordan: "We all have so much pride for each other agreeing to do something that we've never done before in front of America. It's very uncomfortable. All of us feel insanely uncoordinated. You take people at the top of all of their respective fields and putting them in something that they're not and working with people who are."
Lindsay: "You would think we wouldn't want them to do well because it's a competition, but we get mad when they don't get good scores … We just want everyone to do well."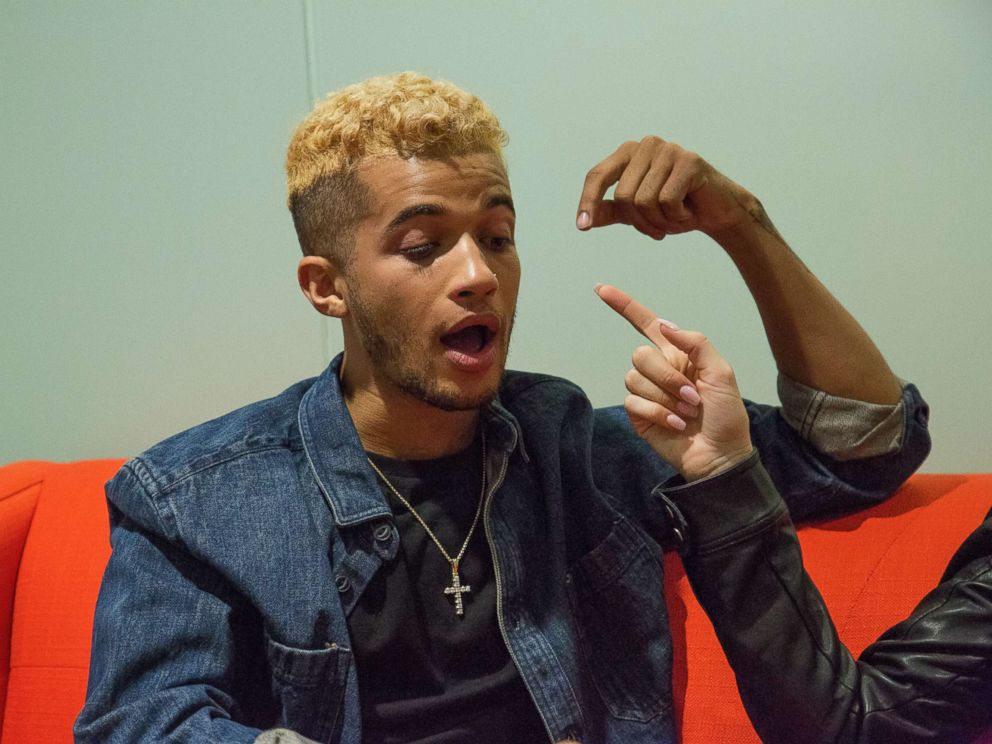 Lindsay, you've been on the show for some time — does the cast ever react to any controversial eliminations?
Lindsay: "Oh yeah, that happens a lot. Last season, for me, there was two that were pretty shocking. Heather [Morris] going home early was insane. She got a perfect score, and her and Maks [Chmerkovskiy] went home, which was like, 'What?' And we all talked it after. And honestly though, you have to get back into it, because you're still in it. And the next one, it wasn't a terrible moment, but it was funny moment: it was right before they announced the finalists, and it was between Simone Biles and Sasha Farber and me and my partner David. And they go, 'David and Lindsay,' and legit, people were booing because they thought it was going to be Simone, and David and I were just like, 'Uh, yay, just clapping for ourselves.' It was so funny. It was just like, 'Yeah, we know, we're just as shocked as you are.'"
Jordan, between dancing, singing, acting, how do you balance everything you're working on?
Jordan: "I'm really fortunate. I've got an amazing team. I've got great friends. I've got a great girlfriend. I've got great family. I've got a great partner — easily one of my closest friends now. My life is such that I can delegate with love. And because I've learned to do that over the course of the decade of my career, I get to focus on the things that really make me happy and ultimately pay my house payment."
Is there anything else you haven't done that you'd like to try?
Jordan: "I've really dreamed of getting into producing and developing projects."
Lindsay: "I'm married, and eventually, we want to start a family. And I want to find to find things that I can do as a mom as well. Not that I can't dance as a mom, but I want to find things where i can still be there for my family and also continue to do what I love."
Editor's note: This interview has been edited for length and clarity.