By MARK OSBORNE, MAX GOLEMBO & MEGHAN KENEALLY
While the hurricane-force winds have ended, the dangers posed by Florence are still achingly real for so many in the Carolinas.
A 1-year-old boy who was separated from his mother in North Carolina is the latest confirmed casualty.
The Union County Sheriff's Office said rescue teams had located the body of Kaiden Lee-Welch, who went missing Sunday when he was swept away by floodwaters.
"Our thoughts and prayers for the little boy's family and all the search team members and law enforcement officers who helped in this matter. Very sad situation," the sheriff's office said in a Facebook post Monday.
His mother was driving on highway 218 when rushing water pushed the vehicle off the road.
"Her vehicle left the roadway and came to rest amongst a group of trees. She managed to free herself and Kaiden, who was in a car seat, but lost her grip on him in the rushing water," the sheriff's department said in an earlier Facebook post.
Rivers across the Carolinas continue to swell and threaten neighborhoods with devastating flooding.
More than 2 feet of rain has fallen across North Carolina, including a preliminary total of 33.89 inches near Swansboro, North Carolina, the most rain from a single tropical system in the history of North Carolina. Marion, South Carolina, was inundated with 18.13 inches of rain from Florence.
Flash flood warnings continue to be in place, 72 hours after Florence made landfall on Friday as a Category 1 hurricane.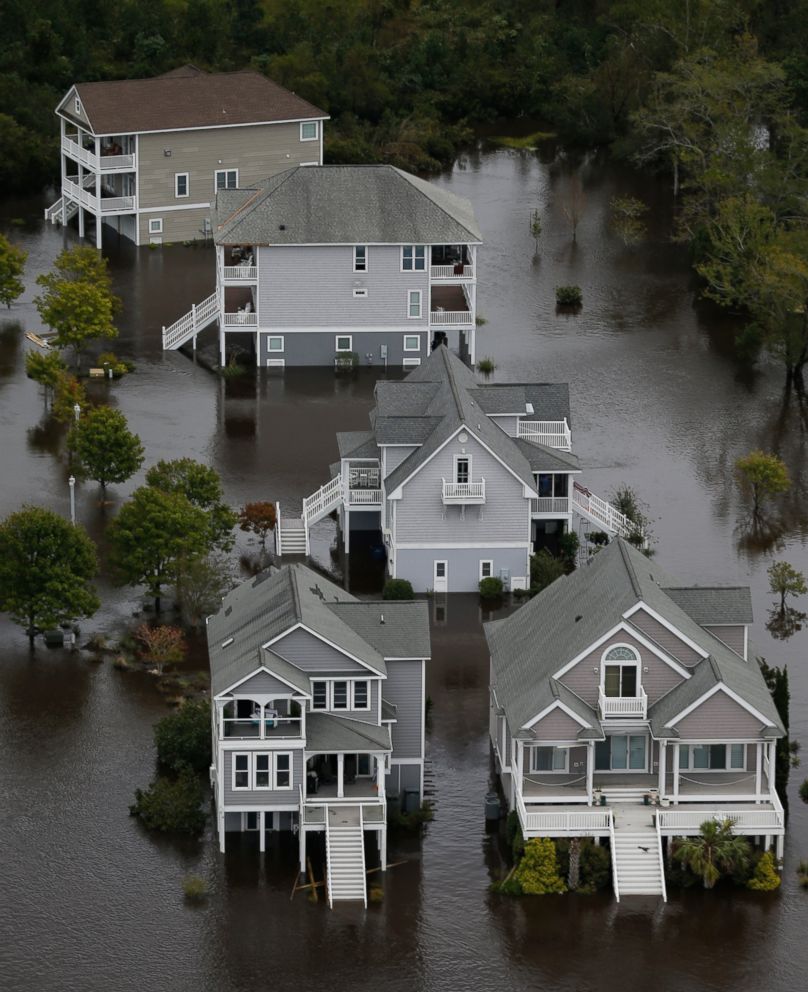 (MORE: Florence by the numbers: More than a dozen dead, hundreds of thousands without power)
The storm has claimed the lives of at least 17 people across the Carolinas. The latest death was in Gaston County, North Carolina, where a 3-month-old was killed when a tree fell on the child's mobile home Sunday just after noon.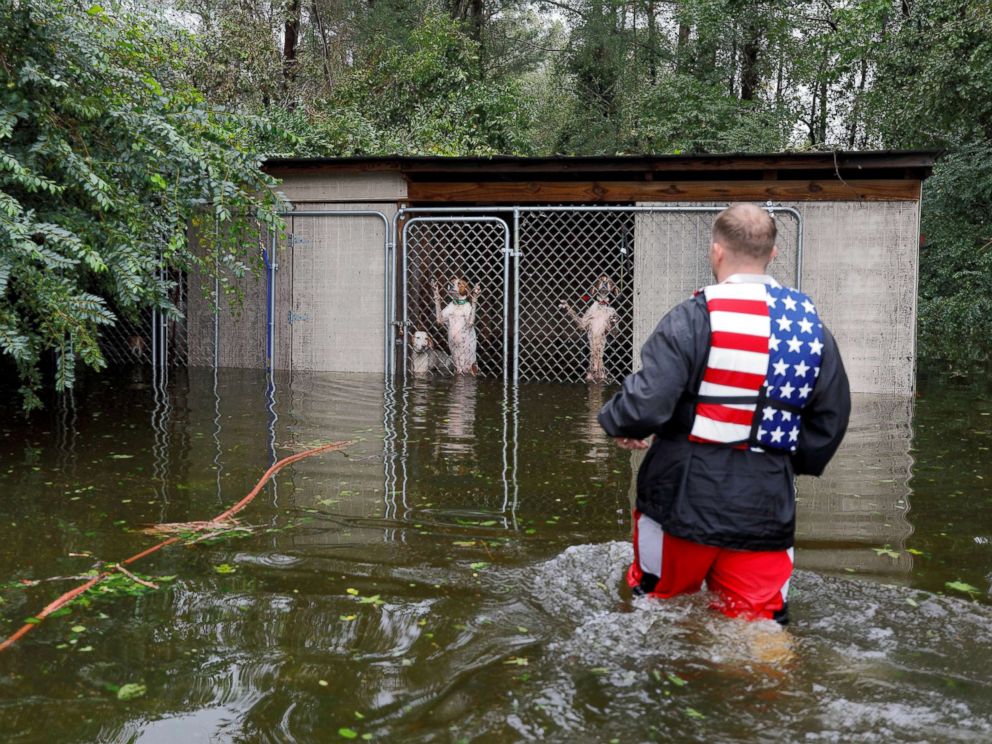 "This storm has never been more dangerous than it is right now," North Carolina Gov. Roy Cooper said Sunday, warning residents that there are still dangers to come even as Florence weakened to a tropical depression. "Floodwaters are still rising across parts of our state and risk to life is rising with the angry waters."
Hundreds of roads have become largely impassable due to flooding. Stretches of I-95 in Lumberton, North Carolina, have been shut down due to flooding. Residents in South Lumberton were evacuated Sunday as the Lumberton River continued to rise. The Cape Fear River in Chanquapin, North Carolina, and Trent River in Trenton, North Carolina, were above record levels.
(MORE: 'My biggest concern is rising water': Coast Guard chief worries over slow-moving Florence)
Mandatory evacuations were also issued late Sunday in Hoke County, west of Fayetteville, North Carolina, due to the potential breach of a dam at McLaughlin Lake. Soldiers from Fort Bragg and the U.S. Coast Guard were called in to assist with the evacuations.
With nearly 700,000 people without power late Sunday, trucks are having a hard time getting into some areas cut off by the flooded roads.
Getting food to people stranded by rising waters is also a problem.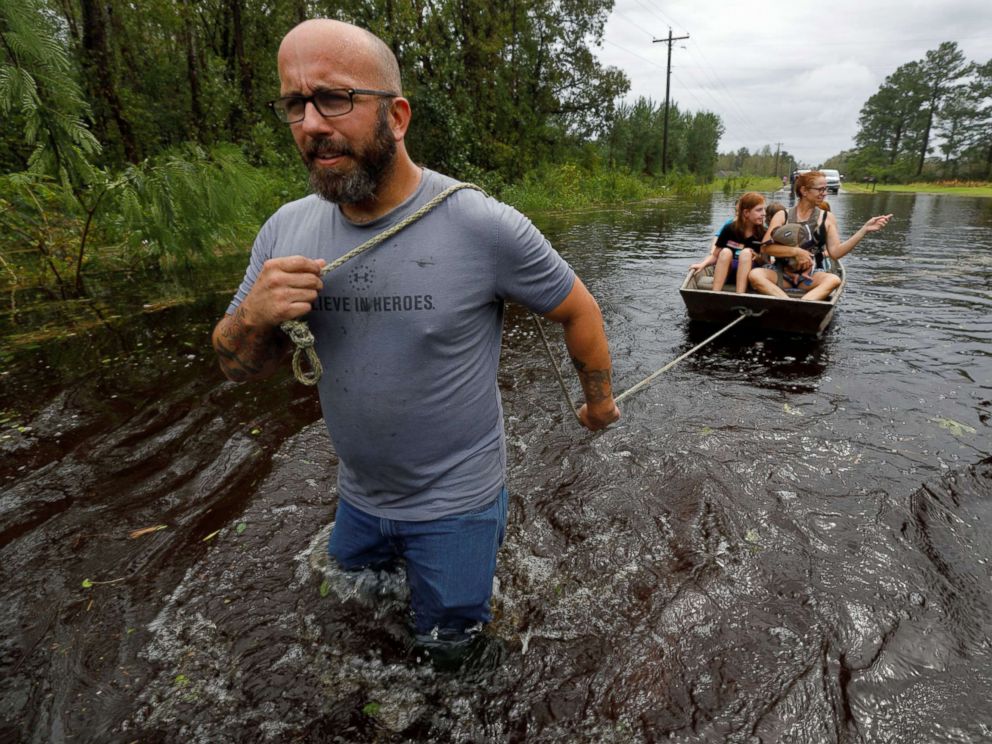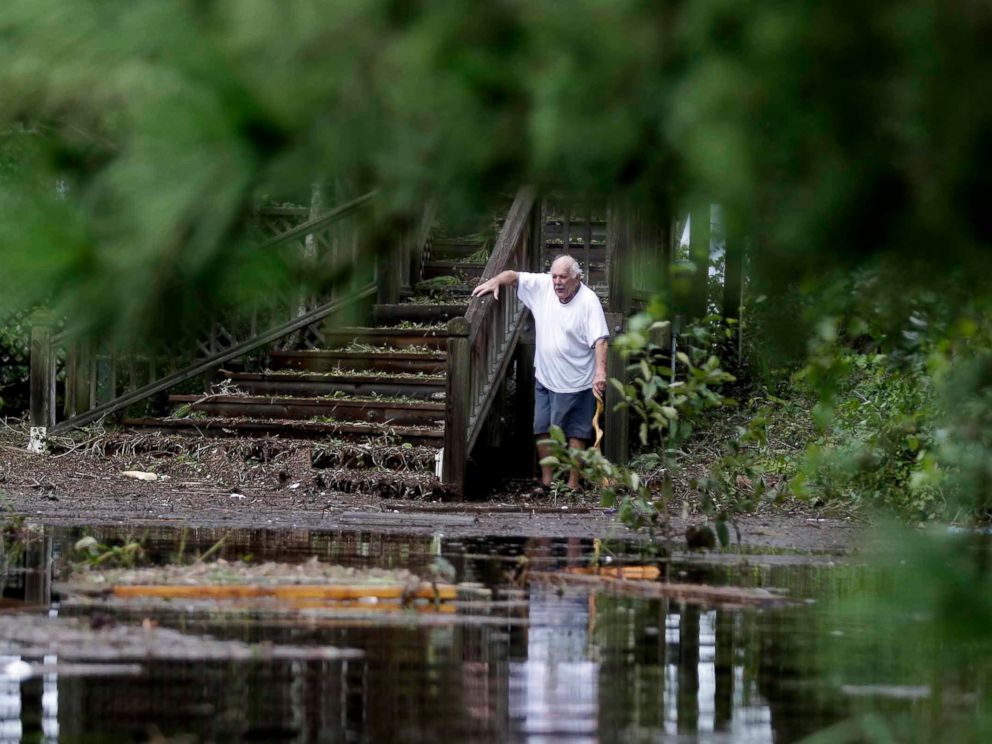 ABC News spoke to Salvation Army chaplain Capt. Jon-Phil Winter outside a Sam's Club in Jacksonville, North Carolina, where the company had donated a large supply of food.
"With surrounding areas suffering as much as they are, it's not even possible to go to New Bern or Morehead City, or any place like that, because they've got their own problems," said Winter. We are kind of at the edge of the coast; we're kind of cut off and so as we would try to reach out to cities around us they're struggling themselves and so we can't pull on those resources. … With those resources not being there, it's potentially quite worrying.
"This will get us through with what we have coming in, maybe today, tomorrow and then we'll see where we are the next couple of days. Things may turn around in such a way that things are able to get in."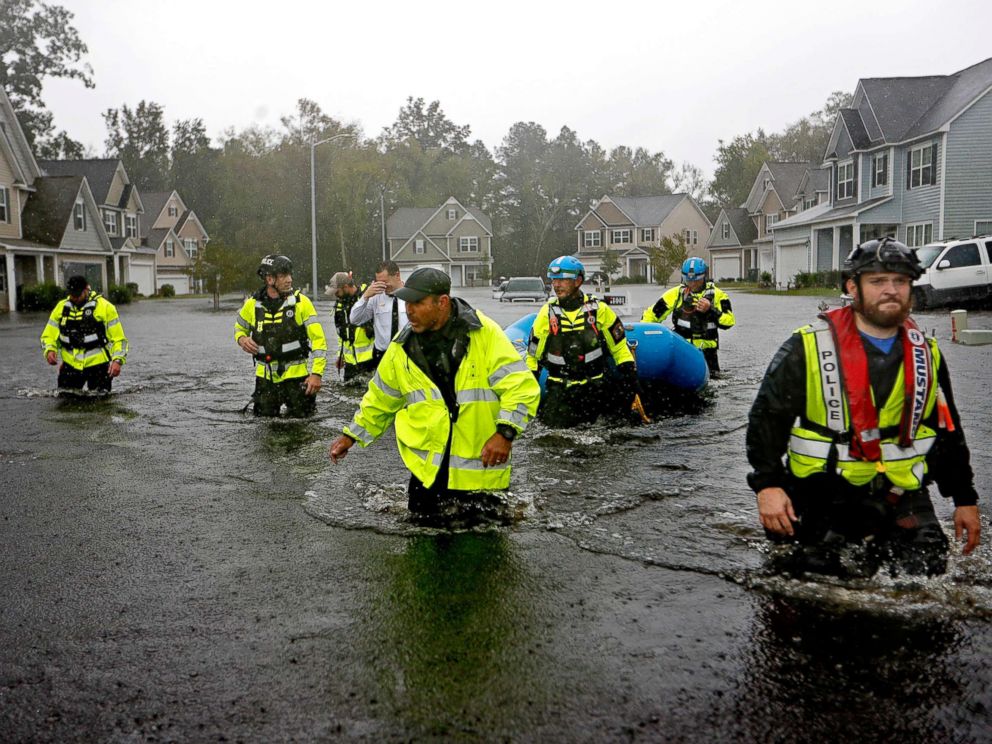 (MORE: Timeline of Florence as slow-moving, deadly storm batters Carolinas)
Winter saw the flooding that affected North Carolina from Hurricane Matthew in 2016, as well as the devastation he called "on another level" from Hurricane Katrina.
"This isn't as bad in some respects — it's the sense of being cut off, that's the thing that I think is a bit of a worry, knowing that we don't have great access in and out of Jacksonville already, and once those roads are flooded we have no access in and out," he said. "So just hoping that can kinda get cleared so we can get the help we need."
The majority of the rain will finally move out of the Carolinas by Tuesday morning.
Virginia will see more rain over the next two days, with parts of the Roanoke region seeing 4 inches locally.